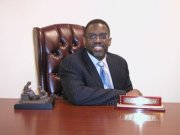 Pastor's Corner
Greetings Family,
Thought for today: Enrich the atmosphere today.

Scripture: Psalm 19:1;3 "The earth proclaims the glory of God. The skies display God's craftsmanship." "They speak without a sound or word;"

Lesson: There are many ways to communicate messages without sound or word. Non-verbal messages we communicate through attitudes and actions can pollute or enrich the atmosphere in which we all must live. Let your good deeds shine out for all to see, so that everyone will praise your heavenly Father.

Application: Enrich the atmosphere today with compassion, love, joy, and peace.
There are no articles in the archives.