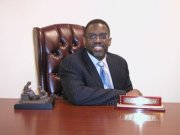 Pastor's Corner
Greetings Family,
Now with 2020 behind us, and 2021 before us, what are some healthy habits you are planning to build into this new year? Just for today, I will be grateful. I will audiably express my gratitude to God for his grace. I will offer to God the sacrifice of thanksgiving, and will call upon the name of the Lord. (Psalm 116:17)

In 2021, Grace and Gratitude will be my daily attitude. - Pastor Dunnigan
There are no articles in the archives.