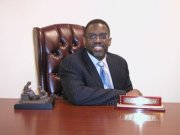 Pastor's Corner
Greetings Family,
Recently, weíve been focusing on becoming more OPEN with Jesus and with each other, and weíre coming to realize that itís not as easy as we might think, specifically as it relates to leadership within the church.
There are times when we act small and closed off because we are afraid to get out of our comfort zone. While itís true that none can enter a house if the
person inside refuses to unlatch the door, we can enter when the person inside responds and unlatches the door. Likewise, our Lord Jesus Christ is knocking at our heartís door, urging us to unlatch ourselves from our fears
and let Him in to become our rock and our foundation.
As your Pastor, I am not immune to the experience of fear and uncertainty. Yet, like each of you, I am able to press toward the mark with trust and inner strength when I remember the message in Isaiah 41:10, encouraging us to ďFear thou not, for I am with you....Ē After all, God has given us all talents and abilities to use for good in this world. We simply need to employ the Habits of the Spirit to find that courageous lion within each of us to move forward.
Letís ask ourselves, ďIf I remain small, whom do I serve? Certainly, itís not God. My challenge to you is to listen intently to Godís call to action. He is ready to do His mighty will in our lives and throughout Cornerstone Fellowship Baptist Church; He will direct our paths, collectively and individually.
Pressing toward the mark,
Pastor Donald E. Dunnigan, Sr.
There are no articles in the archives.